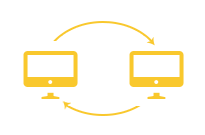 Your ads will be displayed on several hundred other websites, in exchange for their ads on your site. This will exchange visitors leaving your site for new visitors - increasing your traffic and sales. Hundreds of other dating sites already use this system - with great success. More people coming across your pages mean more traffic, which converts into higher sales.
Your banner ads are displayed across all the other dating sites in the network delivering high-quality, targeted, FREE dating traffic to your website. In exchange, you display banner ads of the other members on your site. This makes it a win-win situation for everybody. This system makes the exchange very easy. You can begin receiving high-quality, targeted, free dating traffic in a few minutes.
There's another reason to use Romance-net: you can receive cash and traffic blend. As soon as you place banners on your pages you begin collecting banner credits every time your page is displayed. You can choose how you get your credits: by receiving traffic, by receiving money, or both. You can easily control how much traffic and/or money you receive and you can change the ratio anytime.
You will get detailed traffic statistics to monitor performance of every banner individually as well as your banner inventory as a whole.